Italian follows - Di seguito in Italiano
The discovery of the existence of a package called "com.ibm.notes.java.ui" in Notes 8.5 installation files (precisely, in the folder \framework\shared\eclipse\plugins) was a welcome surprise.
Pictures of plug-ins related to those always useful front-end needs (for instance, to interact with selected documents on a view) without being forced to replicate the same agent on each database, started to crowd my mind.
The package is still undocumented (at least, I was not able to find official documentation) but this does not mean at all that it is unusable.
Unpacking the notesui.jar archive, we can find a list of classes such as NotesUIWorkspace.class, NotesUIView.class, NotesUIDocument.class and so on.
So here it is a first example on using the new Java UI classes: a plug-in for Notes 8.5 client that allows you to set the value of a field on selected documents, exploiting getCurrentView() and getSelectedDocuments() methods (check out the guide included in the zip archive for details on user-side usage).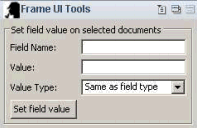 As you can see, the plug-in is called "Notes UI Tools": yes, that means that I would wish to extend functions in the future (to remove items, to manage replication conflicts, to add or remove authors and readers and so on; to sum up, admin features of generic usefulness, or, why not, feature to export data from front-end Notes views or documents to Symphony spreadsheets or documents).
Ideas, comments and suggestions will be welcome.
First suggestion is by myself ;-) : a progress has been added to the wish list for next release.
I hope to have soon the chance to officially explain the reason of the choice of the icon.
Cheers!
La scoperta dell'esistenza di un package denominato "com.ibm.notes.java.ui" tra i file di installazione della release 8.5 di Notes (precisamente, nella cartella \framework\shared\eclipse\plugins) è stata una gradita sorpresa.
Immagini di plug-ins dedicati a tutte quelle necessità di front-end sempre utili (ad esempio, per interagire con i documenti selezionati in una vista) senza essere costretti a replicare lo stesso agente in ogni database, hanno iniziato ad affollare la mia mente.
Il package è al momento non documentato (almeno, io non sono riuscito a trovare documentazione ufficiale) ma questo non significa che non possa essere utilizzato.
Analizzando l'archivio notesui.jar, troviamo una lista di classi come NotesUIWorkspace.class, NotesUIView.class, NotesUIDocument.class e così via.
Ecco quindi un primo esempio di utilizzo delle nuove classi Java UI: un plug-in per il client Notes 8.5 che consente di impostare il valore di un campo sui documenti selezionati sfruttando i metodi getCurrentView() and getSelectedDocuments() (fare riferimento alla guida inclusa nell'archivio zip per maggiori dettagli sull'utilizzo lato utente; la guida e l'interfaccia di default sono in inglese, ma il plug-in viene automaticamente installato con interfaccia in Italiano per i client Notes con il language pack italiano installato).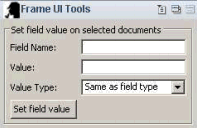 Come potete vedere, il plug-in è titolato "Notes UI Tools": sì, questo significa che, in futuro, mi piacerebbe aggiungere altre funzioni (per rimuovere campi, per gestire i conflitti di replica, per aggiungere o rimuovere autori e lettori e così via; riassumendo, funzionalità amministrative di generica utilità, o , perché no, funzioni per esportare dati da viste o documenti in front-end verso fogli di calcolo o documenti Symphony).
Idee, commenti e suggerimenti saranno i benvenuti.
Il primo suggerimento arriva da me stesso ;-) : una barra di avanzamento è stata aggiunta alla wish list per la prossima release.
Spero di avere presto l'occasione di spiegare ufficialmente il motivo della scelta dell'icona.
Ciao a tutti!