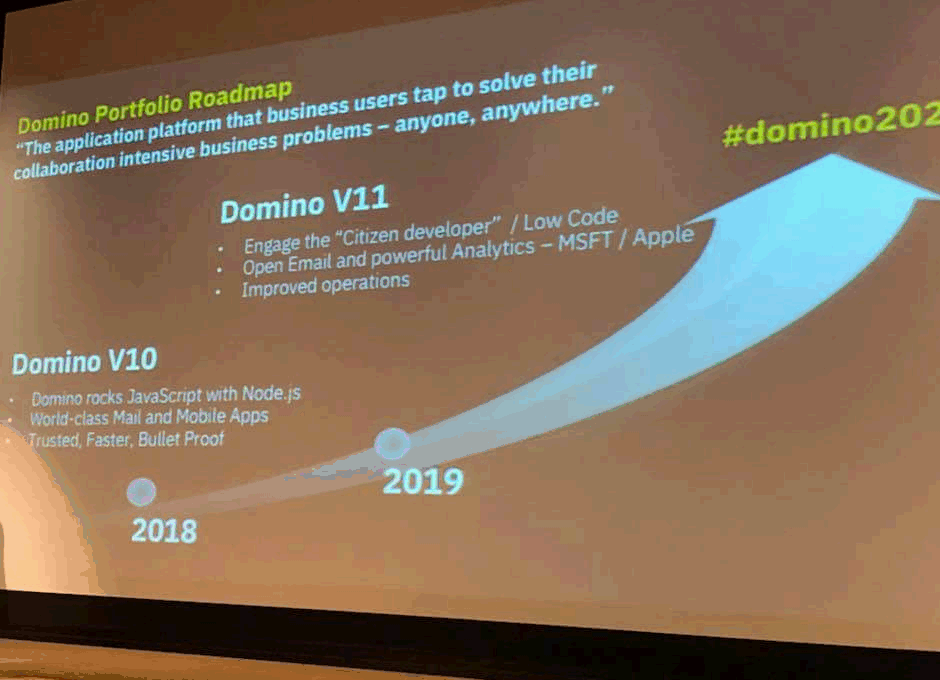 L'entusiamso di
Notes e Domino 10
previsto per il
10 Ottobre 2018
è la direzione importante che
IBM Collaboration
ha intrapreso in questo 2018
Bob Schulz
il general Manager of Watson Talent e Collaboration solution di IBM ha pubblicato una lettera a questa pagina:
https://www.ibm.com/blogs/collaboration-solutions/2018/04/30/letter-bob-schultz-destination-domino/
In questa lettera si percepisce il forte entusiasmo per la V10 di IBM Domino.
Viene annunciato il sito web istutuzione di IBM Domino
https://www.ibm.com/collaboration/ibm-domino
che permette di rimanere aggiornati su cosa sta accadendo con la versione V10 di Domino ed il futuro del portaglio domino.
Nella lettera di Bob vengono evidenziati alcuni aspetti importanti che riporto in questo articolo:
Our customers highlight these advantages:
- Rapid application development—we were there at the beginning of "low-code app dev" space to enable tech savvy business users and IT to get work done faster
- Enterprise grade platform—secure and scaleable for building workflow and collaboration-centric business processes using the world's first NoSQL document database
- Lowest Total Cost of Ownership—proven low administrative overhead and easy integration with enterprise ecosystems such as Microsoft
Grazie ai diversi input dei Jam presi dai 23 paesi nel mondo (quello di
Milano è un esempio
) ed alla partnership con HCL i 3 temi premi in considerazione per il prossimo futuro sono:
- We are reducing the overall cost of ownership of Domino, and making it even more bullet-proof
- We are improving our world-class app and mail user experience on mobile devices and the desktop
- We are embracing JavaScript with Node.js to open up new possibilities with Domino as a full-stack web platform
Viene evidenziato che gli input sono stati presi dai diversi Jam dei 23 paesi nel mondo, nel
webcast di Febbraio
c'erano iscritti oltre 3.000 registrati con 1.000 domande ed ancora di più nel secondo
webcast di metà Aprile 2018
.
Il futuro di Domino oramai è certo e duraturo.
Vi segnaliamo il prossimo webcast del
24 Maggio 2018 alle ore 16:00 italiane

- V10 Roadmap: What's new in Mail, Chat, and VOP?
E' gratuito, semplicemente iscrivendosi a questa pagina:
https://event.on24.com/wcc/r/1663105/2ACF24A6CA7BEDD11BBC2AD2F9C55575?partnerref=web
(dovrebbe essere un approfondimento della sessione tenutasi a Think 2018 da Gabriella Davis e Ram Krishnamurthy - Chief Architect in HCL di Notes/Designer/XPages che avevamo pubblicato qua:
https://www.dominopoint.it/dominopoint/dominopoint_blog.nsf/dx/sintesi-di-ibm-thinks-2018-welovedomino-domino2025
)
Alla prossima!